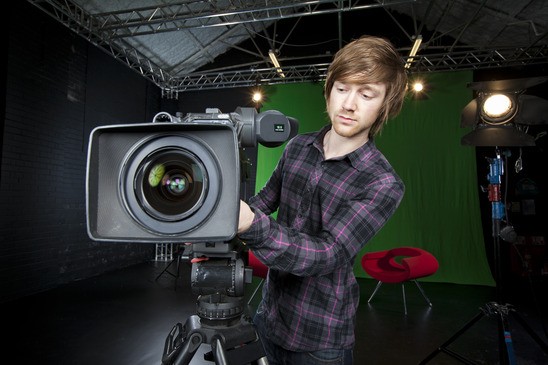 In most cases, long before the camera rolls, before the script is written, before the talent has been secured, the first deal to be inked should be the distribution pathway. Why? Because where your video gets viewed may determine aspects of its production, including some technical details. The demographic you wish to reach will in part be determined by where the video is distributed.
You or your company can spend a great deal of money on the production of a video. You can hire a talented producer and crew, carefully search and secure great on and off-camera talent and wind up with a very effective effort. But, if no one sees it… what's the point?
Broadly speaking, the venues for distribution are:
Theatrical
Television
Online
Direct
If you're making business video, distributing it in a movie theater is… well, really kind of silly to talk about. No, you're not going to do that. If you're making an independent feature film and you've not sold the domestic or foreign distribution rights, it's likely that you'll show your movie at film festivals to generate buzz and to find a buyer. But, really, we're not discussing feature films, here.
Too, if you're producing something like long-form infomercials or commercial spots that run from ten seconds to a minute in length, you may be distributing on television. Buying time on some cable channels can be downright cheap, depending upon the network (we're not saying that Bravo or CNN or TLC or Animal Planet are cheap, however!), but again you've got to consider whom you need to reach. If you've created the next Sham Wow, buying a block for an infomercial on the DIY Network or Shop Zeal 1 may make sense. And, the same may be true for commercial distribution.
If you're working with a media-savvy production company you may be able to contract for both the production of the video and its distribution. But, more likely is that you'll work with a media company. By the way, by media we mean the time or space you purchase in order to show your video. The media planning and purchasing business is enormous! Large media buyers like Starcom Mediavest, Carat, ZenithOptimedia buy time in the billions of dollars each year on behalf of large global advertising agencies. But, small independent media buyers and planners exist to help both small clients and their agencies to make informed and intelligent media buys.
Direct refers to the distribution of your videos on some form of mailed media, i.e., DVDs or Blue Ray discs. Given the rapid adoption of high-speed Internet connections by companies and individuals alike, mailing out anything seems a bit antiquated. However, if you produce media that's destined to be viewed by those in a foreign country where DVD players are the state of the art and high-speed connections are not yet available, then by all means, employ that route. Or, if releasing the video is a security risk (confidential training or a pre-product introduction) and the safest way to distribute it is via the mail… by all means.
But, for the most part, if you're distributing corporate or business video, then your simplest choice is via the Internet. And, it's here that we need to make some additional distinctions. Again, broadly speaking, Internet distribution can be broken into these categories:
YouTube and Vimeo are two of the largest public distribution channels available online. Of course YouTube is the one you're the most familiar with, since it's owned by Google and is, in actuality, the second largest search engine on the Internet after Google. That's right, second. Which explains why, if you're distributing for a generalized audience, you need to have your videos on YouTube, even if you have a secondary place for its distribution. Vimeo, advertises itself as an alternative to YouTube, providing greater control, privacy and optimization.
Newer upstarts such as Wistia are similar to both YouTube and Vimeo in that you can customize how a video may be viewed, organize several videos together into channels, determine what kind of player to use (what kinds of features to display or to conceal), and what kinds of analytical data to capture.
Private nets like Limelight Networks or Brightcove use sophisticated hardware and software to stream feeds on-demand to end-users. These services offer maximum control and unprecedented features to subscribers, but they can be very expensive and may only make sense for larger companies that need a lot of global reach and have a great deal of video to distribute.
One of the most critical aspects to any kind of online distribution is to be able to evaluate its effectiveness and that may really be the killer app for online distribution. Google Analytics is free and quite comprehensive, but many of the premium video distribution facilities, like Brightcove or Wistia provide enhanced analytics that you may find invaluable, like knowing how long a viewer watched a video before clicking away or where they paused a video and how long they paused it. These and other kinds of analytic features make it easier for you to dial into your audience and make that costly production a profit center instead of an expense.
Getting the right eyeballs to view your video needs to be one of the very first considerations when developing and budgeting a project. Knowing where it's going to show will help define what you're going to make. Distribution, will be the key to the success of your project.